Hey sexy, who are you going to be for the Halloween party this year, have you decided yet? Well, whichever costume you choose, I'm here to help you feel sexier, spookier and fitter by making better food choices this holiday. I also want to prove to you that Halloween treats can look and taste amazing and still keep you on track of your fitness journey. Here are 10 yummy healthy treats that we've chosen for yours and your kids' funny and fit Halloween.
This is an evergreen recipe by Cooking Light, super-easy to make, tasty, looking great and also guaranteed to keep you fit. If you're not a fan of green apples you can use any other apple instead. For how to make these chocolate paint splatters, check out the recipe HERE.
For all the Sexyfit moms out there, this is a fun project to make with the kids. Gina with Skinnytaste suggests these cute ghost-shaped frozen white chocolate banana treats. Alternatively, you can dip bananas into yogurt instead of chocolate so you can get a healthier variation. For details and how to, check out the recipe HERE.
Now let's get on the savory side of Halloween healthy treats. With celery sticks as coffins and deli ham slices doubling as edible mummy rags, nobody will resist these mummies at your party. For ingredients and directions, check out Betty Crocker's site HERE.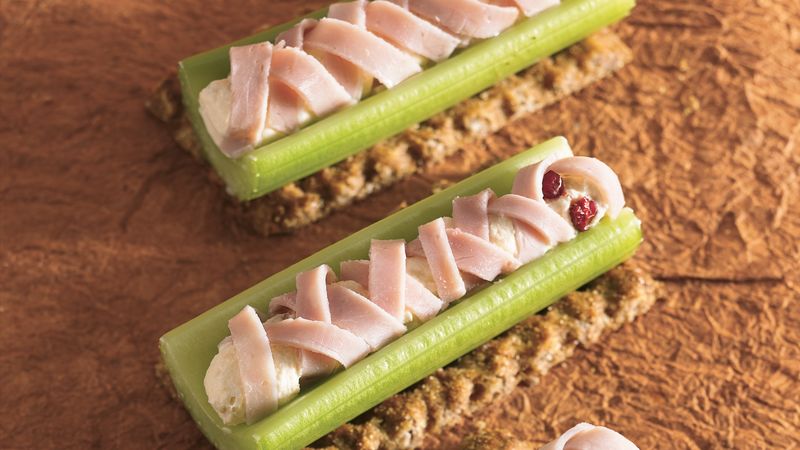 This will take a little bit of skill but make it a romantic meal prep date and you'll have so much fun. Apples, peanut butter and almonds, what can be easier? You can also eat them as a pre-Halloween workout snack! For step by step tutorial check out the Oh She Glows website HERE.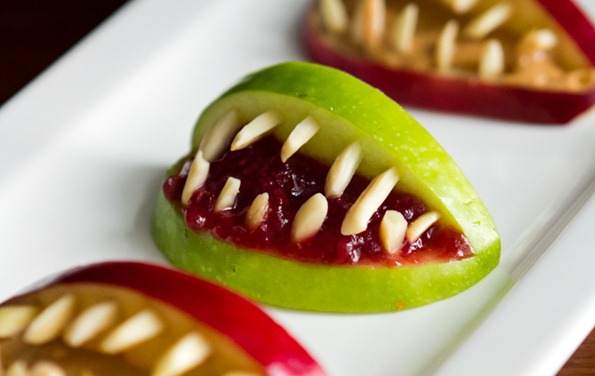 Make some spooky fun with these healthy orange bell peppers, stuffed with a comfort food mixture of seasoned ground beef, rice, mushrooms, onions, and homemade roasted bell pepper sauce. Check out the recipe at It's Yummi HERE.
Another Jack O'Lantern themed treat, made of lovely healthy ingredients will make your Halloween, well maybe not that scary to be honest, but tasty and fun for sure. Check out the ingredients at Eat Plants Now HERE.
Hey Sexyfit mommas, while we are at ball shaped healthy treats, check out these cute spiders. It takes only 20 minutes to make them and your kids are just going to love them. What are these wings made of? Check out at Chelsea's Messy Apron HERE.
Doesn't this look awesome? And it's also suitable for vegans and those of you who are intolerant to gluten and diary products. What's more, it has no added sugar, plus it takes 10 minutes to make. Totally Sexyfit, right? Check out the recipe at Healthful Pursuit HERE.
These simple but yummy beauties come from Gourmande in the Kitchen and will make a perfect homemade gift not only for Halloween but also for any other occasion. For how to make them check out the recipe HERE.
Here's a very elaborate and spooky recipe from Beard&Bonnet if you wish to experiment with alternative pastas and make a full Halloween dish for dinner. Lovely ingredients too, check them out HERE.
Enjoy your fit Halloween with these delicious and amazingly looking healthy treats. Whether you're a fan of savory or sweet, make sure there are mummies, ghosts, Jack O'Lanterns and spiders everywhere. And the best part is that you can fit any of this into your macros so you can have a guilt-free, tasty Halloween this year.
If you want to learn how to eat the foods you love any time of the year and still lose fat, why not try the 7 Day Blueprint? It's a simple method to fire up your metabolism, shed fat without starving or yo-yo dieting and stop wasting hours in the gym. You'll also get a step by step meal plan, 40+ fat-burning recipes and motivational exercises you need to lose up to 7 pounds in 7 days. Check it out at www.sexyfit.com/7dayblueprint.
And Happy Halloween!
With love,
Zlata